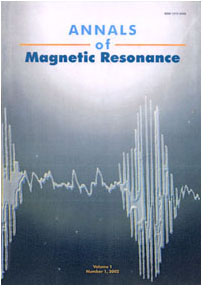 Editor-in-Chief
J. D. Figueroa Villar
Departamento de Química
Instituto Militar de Engenharia, Brazil
figueroa@ime.eb.br

Executive Editor
M. I. B. Tavares
Instituto de Macromoléculas
Universidade Federal do Rio de Janeiro, Brazil
mibt@ima.ufrj.br

Assistant Editor
R. A. S. San Gil
Instituto de Química
Universidade Federal do Rio de Janeiro, Brazil
rsangil@iq.ufrj.br

Language Editor
S. M. R. Vasconcellos
sonia@peq.coppe.ufrj.br

Description

Annals of Magnetic Resonance is dedicated to the publication of original research dealing with the fundamentals and applications of the different magnetic resonance techniques (NMR, NQR, MRI, Mössbauer, EPR, ENDOR, etc.) in all fields of science. Accordingly, contributions dealing with the applications of those techniques to all aspects of chemistry, biochemistry, physics, biophysics, materials and food science are welcome.

This journal is the official scientific publication of the NMR Users Association (AUREMN, Brazil).

Language

Only contributions written in English will be considered for publication.

Contributions

Three types of contributions are considered for publication in Annals of Magnetic Resonance:


Reviews: (15 to 20 pages) One invited review may be published as the first contribution in each number. Potential review authors, who must have contributed significantly to the specific field may suggest topics for consideration to the Editorial Board.

Articles: (4 to 12 pages) Articles are complete original research manuscripts, including introduction, experimental, results, discussion, conclusion and references. Articles may be the complete significantly expanded version of original research previously published as a Letter.

Letters: (2 o 6 pages) Letters are preliminary reports of original and significant unpublished work. The manuscripts submitted as letters must be identified as such in the submission letter.

Three reasons to publish in Annals of Magnetic Resonance

This journal is the official scientific publication of the NMR Users Association (AUREMN, Brazil).
Manuscripts published in Ann. Magn. Reson. will have great visibility as the full pdf version of the different contributions will be available online for free at the site of the journal.
We expect to have the journal indexed by the Chemical Abstracts Service, SCIELO, Current Contents and Science Citation Index (ISI) in 2008.



All the contributions will be evaluated regarding their significance and originality with the aid of independent referees. The final decision regarding the acceptance of a contribution belongs to the journal Editors.